Econo Lodge Lake George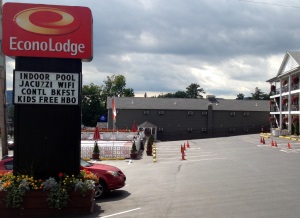 Has an indoor & outdoor pool
Free continental breakfast
Close to restaurants and attractions
Has a game room
Every room has a coffee-maker
Free wi-fi in every room
HBO in every room
The Econo Lodge Lake George is located at the entrance of the village when coming from the North. Well located even if it's not located right in the middle of the main street, you'll still be able to walk. From the outside, the Econo Lodge Lake George seems pretty plain, but reviews from travelers are pretty good (see below).
There is a pool available, which is great in hot summer heat, although its location right beside the main road may not be the best. If you plan on relaxing by the outdoor pool a lot, that may not be your best choice... But since they also have an indoor pool (and a whirlpool!), it may not be a problem if you want to take a swim!
Check Availability and Prices for Econo Lodge Lake George
Type of rooms available
Two types of room are available at the Econo Lodge Lake George. Most rooms are pool-side, only very few are on the other side of the building.
Standard Room with 1 King bed
Standard Room with 2 Queen beds
Standard Room with 2 Queen beds, accessible for people with limited mobility
Location of Econo Lodge Lake George
The Econo Lodge Lake George is located north of the village, close to restaurants, bars and shopping, but not right in the middle.
A short walk will be necessary to get to the middle of the village and using your car may be necessary if you want to get to some attractions, like Fort William Henry or the beaches.
Rating & Reviews
Our Rating:

If you already stayed at an Econo Lodge anywhere in the United States, you know what to expect. Good value for your money, clean rooms, good service without any luxury. The free breakfast is appreciated, but since it's continental, don't expect too many choices.
The Ups
The great majority of reviews are very good. The rooms size are adequate, they are clean and comfortable if you don't expect any luxury. Book a room on the third floor for a better view!
The Downs
There is no particular bad reviews from travelers. Most of them were satisfied with their stay. One of the things you may want to look after are the prices off-season; they may be a little high. Since the hotel is located right on the main road at the entrance of the village, you may expect some traffic and some noise coming from the street.
Photos of Econo Lodge Lake George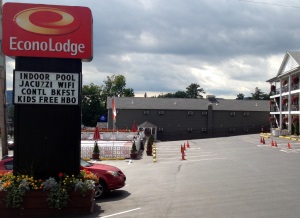 Sign of Econo Lodge Downtown Lake George
More information