Georgian Resort Lake George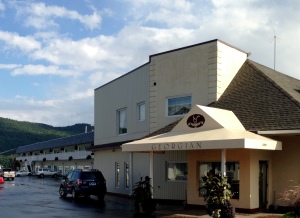 Lakefront with private beach access
Centrally located in Lake George village
Free Wi-Fi and refrigerator in every room
Outdoor pool with an great view of the lake
On-site restaurant
Kayak & paddleboat rentals
The Georgian Resort Lake George has one of the best location of all the hotels and motels in the area. Right in the village, lakefront, you can stay there and forget your car if you wish. I've stayed there a few years back in a standard room - near the office - and since I was out of peak season, I've paid a reasonable price. I must say I enjoyed my stay.
With private - small - beach access, lake front pool & patio area and on-site kayak rental, this resort has qualities than other hotels don't.
The word 'resort' in the name may confuse some guest: this is not a five stars hotel, but a 2.5 stars. I remember the rooms having more a high-end motel feeling than an hotel one. Remember that, due to the central location, rooms will get expensive during high-season.

Check Georgian Resort availability and prices
Rating & Reviews
Our Rating:

Basically this hotel suffers from its main quality: the great location downtown Lake George. This drives the prices up and people get high expectations. Most negative reviews are about that expectation: this is a 2.5 stars resort and not 5 stars. With that in mind, reviews are generally very good and guest are satisfied with their stay.
The Ups
Location, location, location (hardly gets better than that). Lakefront pool, beach access, kayak rental.
The Downs
May get expensive during high season.


Check Georgian Resort availability and prices
Location
Right in Lake George village, by the lake. Location is the main reason to go to this hotel. You'll be close to most restaurants and attractions. Leave the car at the door and walk everywhere!
Type of rooms available
This Lake George resort has more than 150 rooms available on 2 floors. Most of the rooms are facing the parking lot, so it's more a motel feeling. If you wish though, there are also rooms facing the lake. Rooms a the Georgian Lakeside Resort are on-par with other Lake George hotels. Clean, decent size, comfortable room.
Standard 2 double, 2 queens or 1 King rooms
Deluxe rooms and suites available
Choice of courtyard (parking) or lake view
Photos of Georgian Resort Lake George
More information