Holiday Inn Resort Lake George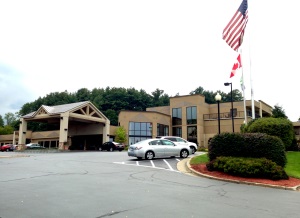 Huge patio and playground area
Well rated restaurant on premises
Friendly Service
Indoor & Outdoor pool
Located 5 minutes from the village & beaches
Enjoy the whirlpool, the sauna and the gym
The Holiday Inn Resort Lake George is one of my favorite hotels in Lake George for a few reasons. First and foremost, their premises look very good, with a huge patio, pool and playground area for adults to relax and kids to play. They have a lot of activities for young ones and older kids: kids' playground, basketball court, swings and more. The pool being further from the road than most hotels, it's will be both quieter and safer for the kids.
Officially a 3.5 stars hotel, it has comfortable rooms, good location near the village and great customer service. The Holiday Inn Turf really offers everything a great vacation hotel must offer. Great choice for a family trip.
Check Holiday Inn availability and prices
Rating & Reviews
Our Rating:

Excellent hotel with great customer service and lots of on-site amenities. Great choice. They care about their customers and it shows.
The Ups
Customer service and the on-premises activities available are definitively what come first in mind. I could also mention the pools, the gym and TRs restaurant on-site. This is definitively one of the best hotels in Lake George village.
The Downs
One of the only negative things one can say about the Holiday Inn Resort Lake George is that the bathroom in some rooms might be on the small side. Other than that, there are very few bad comments.


Check Holiday Inn availability and prices
Location
Half a mile from the beach, less than a mile from the village, the Holiday Inn Resort has an almost ideal location. Almost. While some hotels and motels will be right in the village, you'll have to use your car to get to most restaurants and attractions.
Still, by car, you are literally minutes away from everything. And if you take into account the numerous activities on-site and the fact that it has a restaurant, you probably won't even care.
Type of rooms available
Rooms at the Holiday Inn Turf are clean, with recent furnishing and of a good size for this type of hotel.
The Holiday Inn Turf also offers Luxury suites if you want to pay yourself some luxury for a weekend and kids' suites, where there is a separate room for the kids (in the same apartment)
Standard Room with King bed
Standard Room with 2 Queen beds
Luxury Suites
Kids' Suites
Photos of Holiday Inn Resort Lake George
More information