Lake George Accommodations & Lodging
There are definitely a lot of accommodations in Lake George. But has with any tourist place, it's quite busy during summer where it becomes a buzzing village with thousands of tourists. You'll find everything from cheap motels to family resort and campgrounds to enjoy the nature.
Where to stay in Lake George, NY?
Lake George village is rather small and most accommodations are located near the center, where you can walk almost everywhere. I'd say that if you stay anywhere between the northern part of the main street – around Motel Montreal and Econo Lodge - and the southern part – around Motel 6 and Holiday Inn Resort - you are close enough to walk to most restaurants, attractions and beaches. (see our section on the maps of Lake George for more details)
Of course you need to be willing to walk a little – let's say between 5 and 20 minutes – to get where you want to go. Otherwise, you can always use your car, but note that you'll have to pay for the park meter because there is not a lot of free parking space in the village.
Lake George Accommodations - Hotels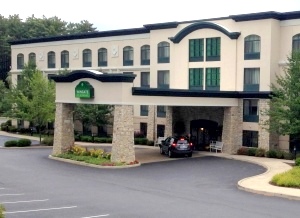 Hotels in Lake George are mostly located a bit off the center of the village. Most of the time, you'll be one or two miles off the center. If you're traveling with kids or simply don't want to walk, using the car will be the best choice here.
You will find two or three hotels that are right in the middle of the village but, for most of them, you will need to take your car to get to most attractions and restaurants.
What does a hotel in Lake George look like?
You won't find any 5 stars resorts in Lake George, most of the hotels are rated two or three stars. You'll find relatively new premises, clean and comfortable rooms, free (continental) breakfast and a good location. Do not expect luxury, but instead a friendly service with a smile!
Lake George Accommodations - Motels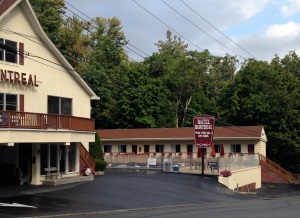 Motels in Lake George are my favorite type of lodging. Relatively cheap - especially when you're not going during peak season -, comfortable and you have access to a pool.
Don't expect anything new or the cutest decor, but for me, it's more than enough. I'm close to the action, I sleep well and the room is spacious enough. I can even cook my own meals thanks to the barbecues and fridges available in some motels.
They normally have a good location, close to the center. Most of them are better located than pricier hotels.
Lake George Accommodations - Camping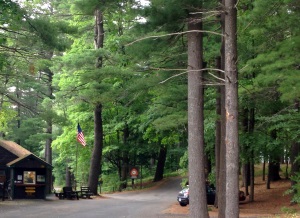 I've been a fan of camping a few times every summer since I was a kid. Helps me reconnect with nature and clear my mind. And, let's be honest... It is much cheaper than hotels or even motels! You'll find plenty of campgrounds in Lake George and of all types.
There are a few maybe 10 to 30 minutes - by car - around Lake George village, one were you are completely isolated on a island in the middle of the lake and also one right in the middle of the village.
Best places to stay in Lake George
Best Cheap motel in Lake George NY
To find a cheap accommodation in Lake George you have to look towards motels. While they are not luxurious and often date back from the 70's, I've always found that they are good value and gave me exactly what I needed: a cheap, clean and comfortable accommodation. You'll have access to a pool, have a decent sized room and can be pretty close – by foot – to almost everything.
My favorite cheap accommodations in Lake George are the Motel Montreal and the Motel 6, located and the opposite end of the main street. They give great value for money – accommodations can be expensive during the high season – and allow you to spend more time in Lake George, for less money. Perfect for a long weekend!
Best Lake George Family Resort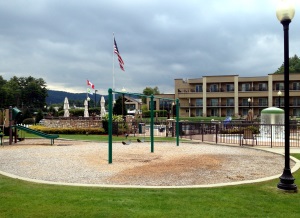 The best hotel for family vacations is definitely the Holiday Inn Resort. While it's not as close to the center as other accommodations, it is definitely the best if you are looking for activities for the kids. With a huge playground, basketball court, leisure and relaxing area, it's perfect for the parents to relax with the kids playing around (and it's far enough from the road so that there is no risk you lose sight of the kids for a few seconds and they end up on walking dangerously on the road).
Best located accommodations
The best located accommodations are located right in front of the lake, with sometimes a private beach. Marine Village Resort and Georgian Resort are two good examples. You are right in the middle of the village – no need to take your car – and are right on the waterfront.
Complete list of accommodations