Lake George Attractions - Sports
Lake George Hiking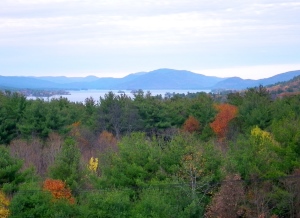 Since Lake George is sitting in the heart of the Adirondacks, hiking has to be at the top of your Lake George activities. Clean air, majestic views, there's a hike for all levels in the area.
Lake George Golf There are more than a dozen golf courses near Lake George and just a few minutes from the village. You can also enjoy an interior golf simulator for rainy days!
Kayaks, Canoes & Paddle boats rentals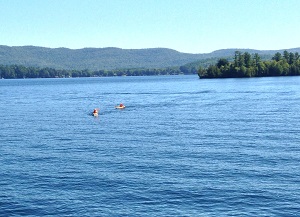 Just a little north of the village, there is a Kayak & Paddleboat rental place where, for about 30$ an hour, you can enjoy the lake. You'll find the Lake George Kayak rentals near the Shore Meadows Lodge.
The Marine Village Resort is also renting Kayaks, Canoes & Paddle boats for their customers.
Lake George Fishing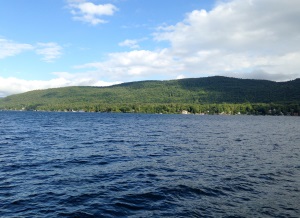 Lake George is a gigantic lake that contains that has a lot of fishing spots. In Lake George you'll find Lake Trout, Salmon, Bass and more.
Horseback riding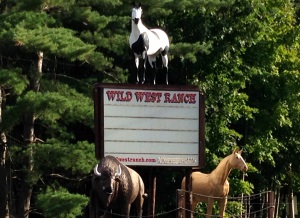 Just minutes from Lake George, there are a few ranches where you can bring the whole family for an unforgettable day. Ride a horse through the beautiful forests of Lake George.
Biking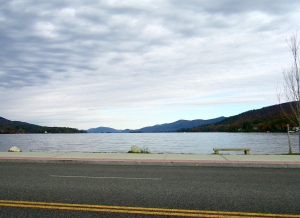 The Warren County Bikeway will take you 14 miles south of Lake George through many lakes, canals and residential areas. It's a well-maintained path that has very few hills, so all the family can go for a half day of nature & fun.
Tubing Adirondack Tubing Adventures offers an original activity only fifteen minutes from the village. Their Lazy River Tubing activity is a great family activity on a hot summer day. Tube down a calm river for half a day in the wilderness. See a video on their website for more information.
Batting cages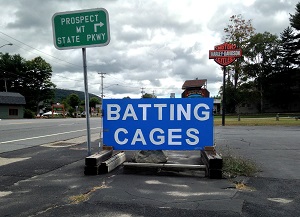 Just a little south of the village, on the main street, you'll find batting cages to practice your swing. They have both baseball and softball and you can select many different speeds so that people all ages can play. See their website for more info.
Lake George attractions - Adrenaline
Parasailing
Oh, I love parasailing! The view, the rush, the fresh air, you have to try this at least once! Those two companies are located right in the middle of Lake George village.
Lake George Skydiving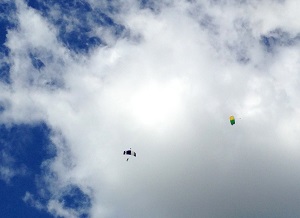 Skydiving is not for everyone, but believe me: if you have the guts to make the decision, book the jump and get up that morning, you'll have the best time of your life. To this day, I haven't met anyone who had the courage to jump and that didn't want to get right back in the plane the second they touched ground after that first - scary - jump.
Even now, I am still scared each time the door opens. But the moment I've made it out of the airplane, all worries are gone.
You'll find two skydiving school very close to Lake George, New York. For about 275$, you'll have the greatest adrenaline rush of your life!
Rafting Rafting is not for everyone. You have to have a taste for action, be in relative good shape and be a decent swimmer. But otherwise, anyone old enough can go rafting. Each time I do this activity, I have a great time. Water, sun, a bit of adrenaline, that's a lot of fun!
Wild Waters rafting is located only 25 minutes from Lake George. If you prefer a family activity, they also have a 2 hours tour of the Saratoga River for families with children 5 years and older.
Tree top adventure and Zip lines Adirondack Extreme offers exciting activities for kids, families and adults and is located about 20 minutes outside Lake George village. From zip lines, to walking on ropes, to net climbing, there are a whole lot of activities on their courses. Great fun activity that will take you a little less than half a day.
They have many courses so that anyone can enjoy this activity, from easy ones for children to extreme ones for people in better shape. Prices depends on the type of courses (they have 6 in total!). Adult and extreme ones are around 50$ (40$ for 9 to 11 years old) and 25$ for the Kids little adventure course.
Rock Climbing (indoor & outdoor) Not very good for those with fear of heights, but otherwise rock climbing is a lot of fun! With mountains all around, the Adirondacks are a great place to practice this activity.
Rock Sport NY is located in Queensbury (15 to 20 minutes from Lake George village) and offer 4200 square feet of indoor rock climbing and will also guide you for outdoor rock climbing. They can introduce you to climbing or guide more experienced climbers.