Marine Village Resort Lake George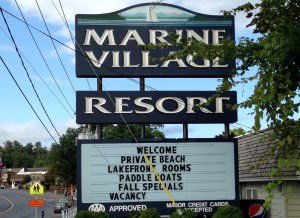 Best location in town
Private beach right in front
Nice lake view pool & patio area with BBQs
On-site restaurant and snack-bar
Wi-fi & refrigerator available in every room
Rentals available (kayak, paddleboat, etc.)
When it comes to Lake George resorts, Marine Village Resort is one of the best hotels you can find; with a location that can't be beaten, overall satisfied customers and a view on the lake that will leave you staring for hours.
As with most Lake George accomodations, don't expect luxury here. It's a 3 stars hotel after all, but a very nice one! Suites for families are also available, so it's a great choice for your Lake George family vacations.
Kayaks, canoes and paddle boats rentals are available for a small fee, there is a restaurant and a snack bar on-site and they also have activities programmed every day during the summer.

Check Marine Village Resort availability and prices
Rating & Reviews
Our Rating:

With one of the best location in town, access to the lake, activities programmed most of the time, restaurants on-site and very good online reviews, this 3 stars resort is tough to beat!
The Ups
Best location in town, beach access right in front, nice lakefront pool & patio area, available barbecues, on-site restaurant and snack-bar
The Downs
Expensive during high season, standard rooms on the small side


Check Marine Village Resort availability and prices
Location
Marine Village Resort has simply the best location in all of Lake George accommodations. Right in the middle of the village, it's perfect for a car-free vacation. With a small beach in front, restaurants and activities all around, it's tough to beat...
Type of rooms available
The rooms at the Marine Village Resort Lake George are basic and clean. Some may find they are on the small side. Nothing to write to your mother about, but it is on par with others hotels and motels in Lake George.
Note that choosing a room with a view will increase the price. If you don't mind, choose the ones facing the parking lot. Also, some rooms that are advertised as pool-side (or lake-side) are just that: pool-side. It doesn't mean you'll have a view of the pool from your room.
Standard 2 double beds or 1 King bed rooms (pool view and lake view available)
Junior suites (2 King beds, sleeper sofa, kitchenette, full size fridge)
Lakefront Suites (2 queen beds, 1 sleeper sofa in the living, full kitchen)
Photos of Marine Village Resort Lake George
More information