Motel 6 Lake George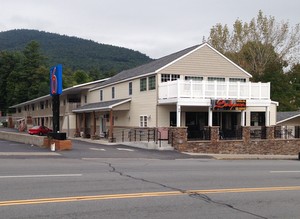 Renovated rooms
Free Wi-Fi in every room
Close to restaurants and attractions
Swimming Pool
Close to the center of the village
Pets are allowed
I've personally stayed at Motel 6 Lake George recently and I must say I was impressed with the place. For those who know the Motel 6 chain of motels, you know that they usually provide decent accommodations with prices at the lower end of the market. Normally you should expect a room without luxury, providing good value. This Motel 6 is even better! I had a recently renovated room - quite cute I must say - with a good size. All that for a very reasonable price for Lake George.
While not directly in the center, it is rather close, most attractions restaurants and attractions will be near. With the newly renovated rooms and the - usual - price they ask, this motel is a very good choice.
Check Motel 6 availability and prices
Type of rooms available
There are three types of rooms available, all giving a great view on the parking... motel style! Last time I went, I had a newly renovated, a good size, cute room.
Standard Room with 1 Queen bed
Standard Room with 1 King bed
Standard Room with 2 Queen beds
Accessible Room with 1 King bed
Location
Contrarily to most motels that are located north of the street, Motel 6 in Lake George is located south of the village center, a few minutes from the action.
Using your car to get to most restaurants and shopping is not necessary since you are about 5 minutes to the piers and 10 to the village. The main beach is maybe 15 minutes by foot.
Rating & Reviews
Our Rating:

Officially a 2-stars motel, it has generally very positive reviews. Ratings are good on all major review sites, with some negative comments (to which they usually reply to, which is a good sign from the management). Expect the rooms to be at par with Motel 6 standards and you'll enjoy this motel.
The Ups
Most positive reviews talk about the renovated rooms, the pool and the location. My last experience there was really pleasant and I enjoyed my time.
The Downs
It seems like most bad reviews comes from people being disappointed of the room. Of course this is not a 4 four hotel and you should expect the room to be simple. Basically a place to sleep and enjoy Lake George during the day.
Check Motel 6 availability and prices
Photos of Motel 6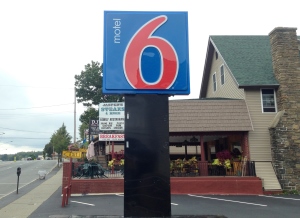 Sign of Motel 6, as viewed from the street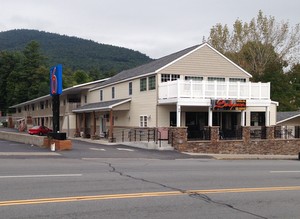 This motel is located on the main street, minutes from main attractions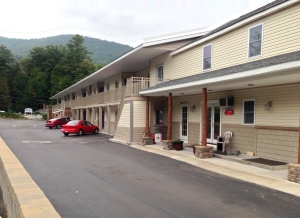 Doors that open on the parking