Motel Montreal Lake George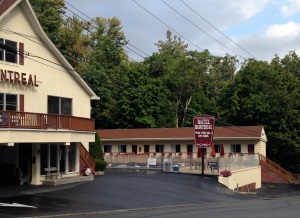 Outdoor pool
Barbecues available
Close to restaurants and attractions
Every room has a refrigerator, microwave & coffee-maker
Near the lake
Free wi-fi in every room
I've personally stayed at Motel Montreal Lake George a couple of times and have always liked my experience. I especially enjoy the fact that BBQ are available and that each room has a refrigerator to keep those leftovers.
It is close to the village center, restaurants and attractions and the owner is a friendly person who will kindly help you if you forgot something or if you need anything. Do not expect any luxury, but by any motel standard, this place is very good.
Check Motel Montreal availibility and prices
Type of rooms available
Two types of room are available here. Most of them are pool-side, only very few are on the other side of the building. Rooms are not luxurious, but clean and kinda roomy for that type of accommodation.
Standard Room with 1 Queen bed
Standard Room with 2 Double beds
Location
Motel Montreal Lake George is located north of the main street, rather close to the action. Using your car to get to most restaurants and shopping is not necessary since you are really close to everything. Though, if you want to get to the beach or the waterside restaurants or to Fort William Henry, you may have to walk 10 to 20 minutes.
It's not the closest motel from the center of the village, but is indeed very close to everything. If you don't mind a little walk, you'll find the location perfect!
Rating & Reviews
Our Rating:

Officially a 2-stars motel, it has generally very positive reviews. Ratings are good on all major review sites, with very few really negative comments.
The Ups
Most positive reviews talks about the location, the friendliness of the owner and the cleanliness of the rooms despite being a more than 50 years old motel. While this motel is not right in the middle of Lake George village, it is indeed well located. A short walk will get you to the city center where the shops and restaurants are located.
The Downs
While the location is good, if you want to get to the south of the main street, where you'll find the beaches and the boardwalk, it may take you 20+ minutes to get there by foot (5 minutes by car). Rooms are a bit dated. Don't expect the newest bathroom, but the rooms are clean.
Check Motel Montreal availibility and prices
Photos of Motel Montreal
More information