Super 8 Lake George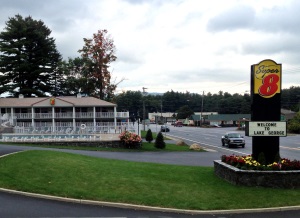 Has an outdoor pool
Kitchenettes available in some rooms
Fridge in every room
Close to the village and attractions
BBQ available
Free continental breakfast
Free wi-fi in every room
If you ever stayed at a Super 8, you know what to expect from this motel: adequate, clean and comfortable rooms. I personally always been very satisfied with my stays at a Super 8.
Super 8 Lake George is no exception. Or maybe it is: the Super 8 motel Lake George may be better than most motels of this chain. You'll find comfortable rooms, great service, a decent breakfast, good premises and you are relatively close to restaurants and attractions. Though, if you want to walk to most attractions, you may want to choose a motel closer to the center of the village.
For a motel, the premises look pretty nice. The pool area is good, though a bit close to the road (like most outdoor pools in Lake George).
Check Super 8 availability and prices
Type of rooms available - Super 8 Lake George
Many types of rooms are available at Super 8 motel Lake George. All of them have a fridge and some rooms include a kitchenette. Very useful if you plan to stay for a few days and do not want to spend all your budget at the restaurant.
Standard Room with 2 Double beds
Standard Room with 2 Queen beds (some with kitchenette)
Standard Room with 1 King bed (some with kitchenette)
Standard Room with 3 double beds
Location of Super 8 Lake George
Super 8 Lake George is located on the southern part of the main street at the base of Prospect Mountain, a 5 minutes drive to almost anywhere. If you want to leave your car at the door, you'll have to walk for a mile to get to the village center and 10 to 15 minutes to get to the beaches.
While this motel is not the closest to the village center, I would say it still close enough so that you can leave your car in the parking. You'll find plenty of restaurants option nearby. All in all, Super 8 Lake George is well located.
Rating & Reviews
Our Rating:

The Super 8 motel (downtown) has positive reviews. Ratings are good on all major review sites, with very few really negative comments. While the location is good, you do have to walk for at least 10 minutes to get to downtown or to the beach. Something to consider if you don't like to walk!
The Ups
Most positive reviews talks about the friendliness of the staff, the adequate accommodations and the cleanliness of the rooms. For a motel, it is better than average.
The Downs
It's not the closest motel to the center of the village. While there is very few negative comments, some say the carpet may need to be changed in some rooms and the beds and pillows could also be updated. Nothing really to worry about, but if you're used to a 4 stars hotels, you may find that the motel needs updating...
Photos of Super 8 Lake George
More information