Wingate by Wyndham Lake George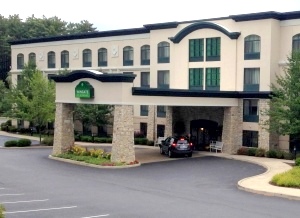 Close to Lake George village
Whirlpool, heated indoor & outdoor pools
Fitness center & Game room
Complimentary breakfast & on-site
Free wi-fi throughout the hotel
Great choice for business meetings
The Wingate by Wyndham Lake George is a nice recent hotel of 85 rooms located close to the Lake George village and the beaches. It is a nice looking hotel in a quiet location, perfect for relaxation. Officially a 2.5 stars hotel, it does a good job in everything this type of hotel must do right: service, clean & recent rooms, amenities, etc.
If you are looking for a hotel to hold your business meetings, the Wingate is a good option. They offer a business center where you have wired and wireless internet, free printing, free faxing and more. Set in a quiet environment, it is also close to restaurants and attractions.
Check Wingate availability and prices
Rating & Reviews
Our Rating:

Most guests at the Wingate by Wyndham Lake George are satisfied with their stay and there are very few bad reviews out there. There is inherently nothing bad about this hotel, but there is also no "wow" factor coming from guests reviews. Overall, a good choice for family vacations or business trips; expect a good, clean hotel with good service.
The Ups
Good customer service, on-site fitness center, good hotel for business meetings, lots of free services
The Downs
Consistent with that type of hotel, the breakfast is not appreciated by everyone. Otherwise, very few negative aspect.


Check Wingate availability and prices
Location
Located near Lake George village, you'll need to take your car to get to most places. While you could walk to the beaches and village center, you may find that it's a bit far.
Since it is not located right on the main road, it will be quieter than other hotels.
Type of rooms available
Standard Room - Standard Room, 1 King Bed with Sofa bed
Standard Room - 2 Queen Beds
Suite - 1 King Bed with Sofa bed
Accessible rooms also available
Photos of Wingate by Wyndham Lake George